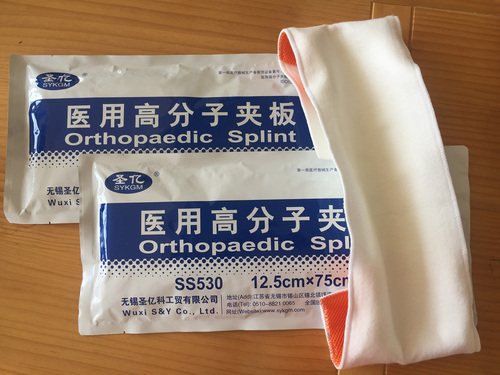 SY's seventh-generation medical polymer splint, the new splint, is an upgraded product of other medical polymer splints. Not sweltering in summer to reduce sweating; not cold and comfortable in winter!
At the beginning of 2019, based on the fifth-generation mesh plywood and the sixth-generation color 3D mesh medical polymer splint, Wuxi Shengyi developed and introduced the seventh-generation medical high-tech based on the clinical use of the hospital and the production of our factory for many years. Molecular splint. In August 2019, the seventh-generation polymer splint was finalized and Shengyi's seventh-generation medical polymer splint is novel in form and easy to use,eliminating hidden dangers. Avoiding the leakage of glue like other splints into the non-woven fabric liner, and curing into gel thorns after curing, which will hurt the The seventh-generation medical polymer splint avoids patient complaints and doctor-patient disputes caused by wet pads like other splints. (After the other splints are soaked in water, the wet non-woven fabric pads contact the affected area, which is cold and humid in winter and summer, and the affected area is prone to inflammation and discomfort.)
SY's seventh-generation medical polymer splint uses a good mesh fabric produced by Korean companies, 7 ~ 8 layers of glue, and is equipped with a colorful 3D three-dimensional elastic mesh fabric. It has good air permeability and excellent cushioning protection. Comfortable, beautiful and durable, easy to operate.
Medical polymer splint Product catalog, category: Class I, 6810 -13-Other instruments for orthopedics (orthopedics)-Auxiliary tools for wound surgery Intended use, scope of application: Orthopedics for external fixation of fractures, orthopedics.

The doctor's operation is more convenient: when operating the splint, the doctor does not need to wear gloves, heating equipment, and do not soak in water. The splint cloth cover is used as a water container. The pad fits the fracture site, and the upper splint is shaped into a semicircular tube. Wrap tightly with self-adhesive elastic bandages together. It only takes 3 minutes to cure and 10 minutes to cure.
Patients are more comfortable to use: light, sturdy, more breathable, convenient and comfortable, and bathable. After the fracture is reduced, the patient can adjustthe tightness of the splint by himself, which is more comfortable. The plywood is equipped with a highly water-resistant, breathable, antibacterial, moisture-proof,and mildew-resistant non-woven fabric. The thick non-woven cushion is soft and comfortable. The middle layer of plywood is coated with 7 ~ 8 layers of mesh cloth, which has high strength and good air permeability. The patient can release the splint by himself, wipe and dry the affected part in the bath, and then tie the splint, which is convenient, comfortable and more humane.

Numbering

Model / Specification

Basic size

(width x length)

Packing quantity

(n bags / 2 boxes / 1 box)

Applicable crowd parts

1

SS312

7.5 cm× 30 cm

90

Child or adult short arm

2

SS336

7.5 cm × 90 cm

40

Child or adult short arm

3

SS416

10 cm× 40 cm

60

Short arms, short legs

4

SS420

10 cm× 50 cm

50

Short arms, short legs

5

SS430

10 cm× 75 cm

40

Short arms, long legs

6

SS530

12.5 cm × 75 cm

30

Short arms, long legs

7

SS546

12.5 cm× 115 cm

20

long legs

8

SS630

15 cm×75 cm

30

long legs

9

SS646

15 cm× 115 cm

20

long legs